MESSAGE FROM THE DIRECTOR GENERAL
First of all I would like to welcome all to the Road Transport Departmentís (RTD) home page.
RTD is a department that is directly involved in providing service to the customer. It is responsible in registering and licensing of motor vehicles,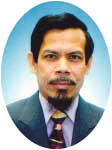 planning and monitoring drivers education, training, testing and licensing, enforcing the laws as well as providing technical advice. Thus there is lots of information that needs to be shared and disseminated to the general public.
With the creation of this portal, it is expected to become a useful tool of reference to customers and the public to the latest information related to RTD. Apart from that, this homepage also facilitates customer to make inquiry, lodge complaints and check their status.
I believe with the homepage, provide a room to all RTD customers to interact with the department especially in correcting any shortfalls in service delivery.
I welcome any suggestions, opinions and constructive ideas, to further improve and update the information on this home page.
Happy surfing.
Dato' Hj Emran bin Hj Kadir
General Director Of RTD